Warning
: simplexml_load_file(http://www.geoplugin.net/xml.gp?ip=54.198.103.13) [
function.simplexml-load-file
]: failed to open stream: HTTP request failed! in
/web/sites/qaint/ikonet.com/en/virtualhumanbody/index.php
on line
108
Warning
: simplexml_load_file() [
function.simplexml-load-file
]: I/O warning : failed to load external entity "http://www.geoplugin.net/xml.gp?ip=54.198.103.13" in
/web/sites/qaint/ikonet.com/en/virtualhumanbody/index.php
on line
108
Discover what's hiding within your body.
The
Virtual Human Body
invites you to a fascinating exploration of the mechanics at play within the human body.
Locate the various organs of the human body in their context, and learn more about their functions.*
Now also available for iPhone, iPod touch and Android!
---
Features:

11 systems of the human body
depicted through our lifelike model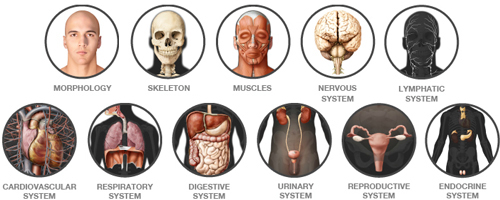 Over 1,000 anatomical structures
named and defined

An
anatomical dictionary
including a
textual search engine

The possibility to
overlap two systems
so as to better visualize the interrelation between bones, muscles and organs

Multiple view angles

Easy navigation
Download the Virtual Human Body, the lightest
and most dynamic anatomical atlas!
*No internet connexion required, except for updates.
Apple, the Apple logo, iPad, iPhone, and iPod touch are trademarks of Apple Inc., registered in the U.S. and other countries. App Store is a service mark of Apple Inc.

Android is a trademark of Google Inc.