First aid materials and services
First aid kit
It is crucial to have a proper first aid kit at home, in your car, and in your backpack while hiking, and to know where to find one at work. Care should be taken to ensure that it is complete and kept in good condition. This first aid kit contains the materials required to treat most benign problems. It also helps to stabilize a more serious situation while waiting for professional medical assistance. The basic kit, of which the elements are numbered below, may be completed at home with a thermometer and acetaminophen or ibuprofen based analgesics and, for hiking, with sunscreen, insect repellent, and calming lotion for sunburn and insect bites (calamine). Metallic instruments must be disinfected with alcohol before and after use. Materials that are outdated or partially used, or whose packaging has been damaged by humidity, must be thrown out and replaced.
A basic first aid kit includes:
Metal scissors with rounded ends
Disposable gloves and masks to protect against infection
Different sized safety pins to fasten a bandage
Different sized adhesive bandages, sterile and individually wrapped, to protect a wound
Gauze compresses, sterile and individually wrapped, to cover an extended wound or stop bleeding
Different sized gauze bandages in rolls, sterile and individually wrapped
Thick compress dressings, sterile and individually wrapped, to stop bleeding
Elastic cloth bands
Triangular bandages, to make a sling or to keep a splint or compress dressing in place
Roll of adhesive tape, to secure dressings
Swabs soaked in antiseptic, individually wrapped, to clean an injury
Antiseptic cleanser
Risk of infection
All wounds are a means of entry for pathogenic agents and present a risk of infection. Superficial wounds must therefore be cleaned gently with soap and water and treated with gloved or clean hands, an antiseptic product and sterile dressing.Signs of wound infection are increase in pain, swelling and redness around the wound, increase in skin heat, and appearance of pus.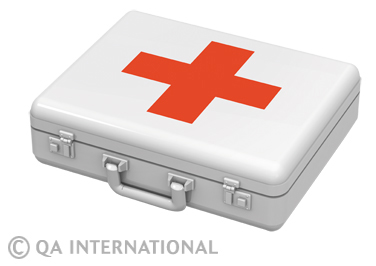 Emergency numbers
Most countries have easy to remember and dial phone numbers to contact emergency medical assistance. Knowing them, programming them in your phone, or posting them near phones will make it possible to obtain help quickly if a situation arises. In North America, for example, the emergency telephone number for medical assistance is 911.
Also see:
In the Visual Dictionary:
In the encyclopedic capsules :
In the ikonet games: